Coca Cola sales promotion campaign
Lively Homes by Coca Cola
Back in 2010, when we created this promotional campaign, the financial situation in Spain was not very promising to say the least. Spaniards started to shift behavioral patterns, refraining from out-of-home activities to increase leisure time spent at home. For brands such as Coca Cola, whose products were predominantly consumed out-of-home in bars and restaurants, this turned into a game-changer. 
Coca Cola's reaction? The only viable one. If your customers don't come to you, you come to your customers. And that was the beginning of this promotional campaign for Coca Cola, Fanta and Sprite, with the brand turning consumer's homes into a special and unique place where consuming Cola Cola products would be as refreshing as ever.
Our campaign
"Casas con chispa"
(Lively homes) would offer up to 10.000 euros for a home makeover and exclusive Coca-Cola gifts to make those homes cozier.
How? Entering 
casasconchispa.com
, registering and introducing the pin-codes they could find under the caps of Coca Cola, Fanta and Sprite, 2 and 1.5 litre PET bottles. By doing so, they accumulated points to get one of the 80.000 prizes. And by introducing the codes on our website, participants would immediately enter a draw to win 10.000 euros to revamp their homes.
In-store brochure with all the information about the campaign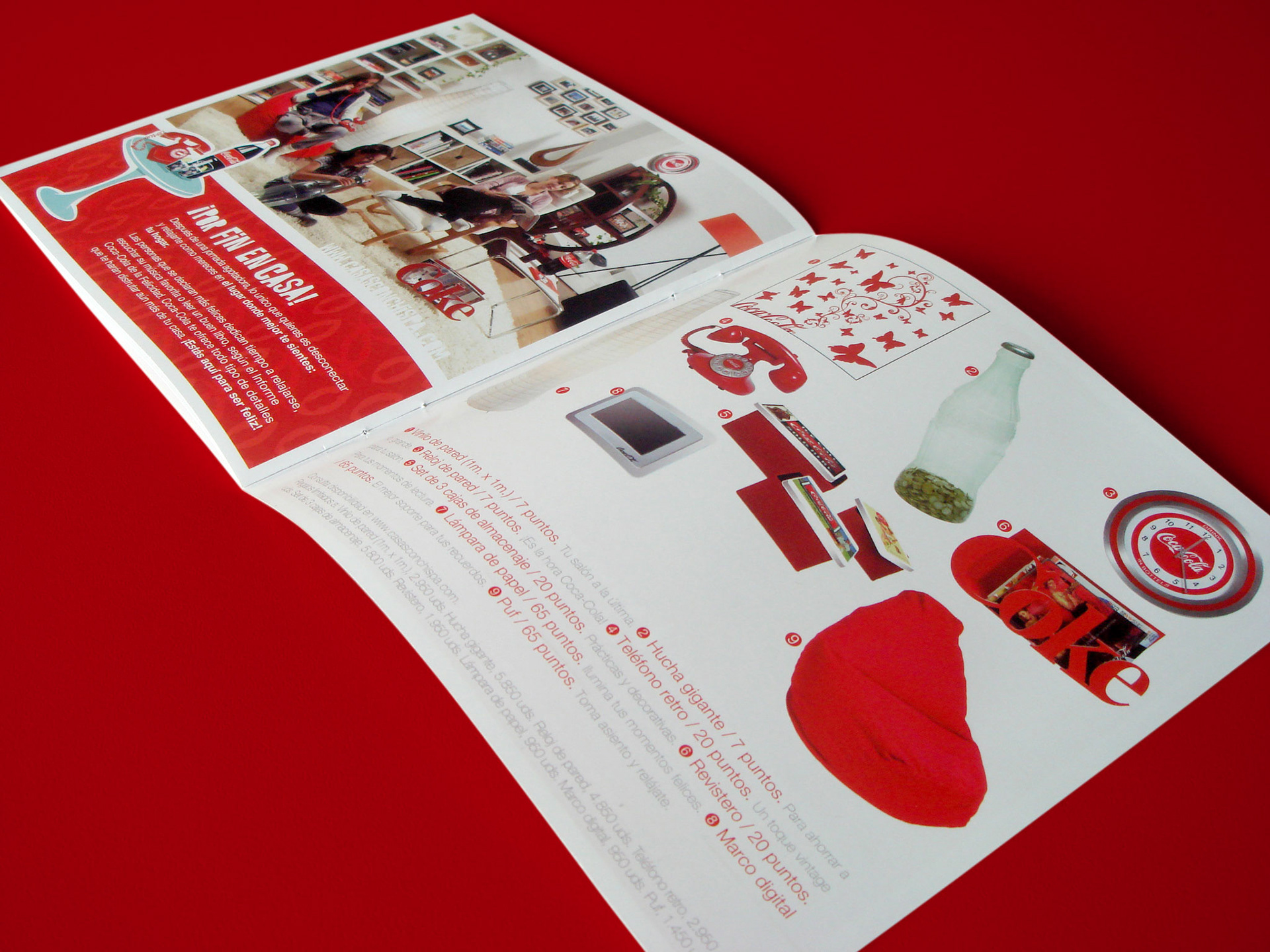 The masthead was formed by different animated layers progressively adding the promotion gifts to the scene.
Choose a moment of consumption
Our gifts were classified in three categories or consumption moments to enjoy a refreshing Coke at home:
› Finally at home!
› Unexpected guests!
› Lunch time!
Each consumption moment showcased a series of bespoke gifts and their value.
Your gift was already on its way to your home. As simple as that.